Google is Bringing Google Now Smarts To Chrome's New Tab Page
Hey peps !!! Do you want to be a step ahead with sports scores, weather, traffiic, and lots more then go with Google Now.Yeah !!! Google

Now

Cards give you the information you need, before you ask.

I have got a very interesting news about the new Google Now on desktop .Google Now is one of Android's secret weapons since its arrival in 2012, the intelligent assistant service has only gotten more and more useful.
These days, Google Now is a vast and ever-evolving repository of personalized information everything from reminders about upcoming events to updates on pending shipments and up-to-date stories on subjects of interest. For many of us, myself included, it's become a frequent first stop upon unlocking a phone and wanting to know what's up in the world.
Now, Google Now appears to be expanding into new terrain. The latest place its personalized info cards are appearing is in the Chrome Android browser specifically, the "bleeding edge" developer version of the app that showcases new and still-under-development features.
The Chrome Dev app just started showing an updated New Tab page that puts Google Now cards onto the standard startup screen.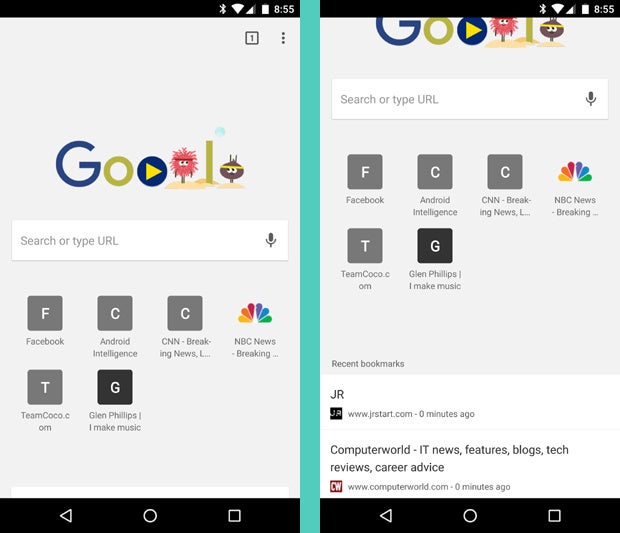 Just scroll down a bit from the usual stuff, and you'll see your most recently visited bookmarks (an oddly specific sort of info, but okay) followed by a collection of current news stories you might be interested in reading.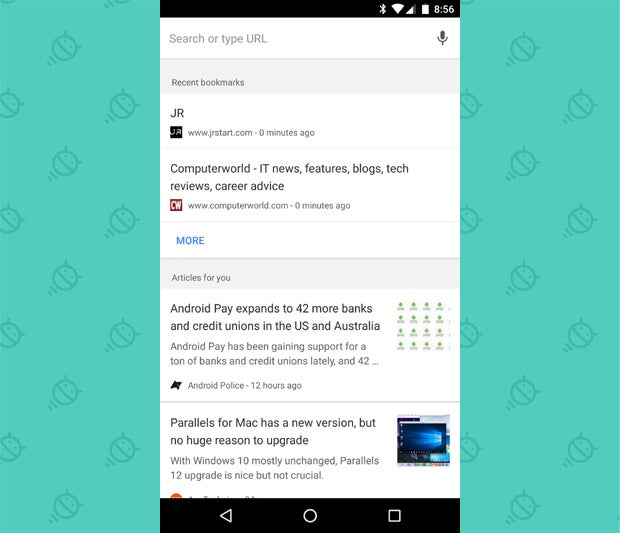 That's all that shows up for me as of now, but given that the Chrome Dev channel is a work in progress, it makes sense that other types of Now data the personalized updates, alerts, and so forth -- could eventually appear in this space as well.
Google actually did bring Google Now cards to the Chrome desktop browser for a while, as you may or may not recall. Back in 2014, the company created a Chrome "notification center" that let you pull up a collection of cards by clicking an icon in your OS's system tray.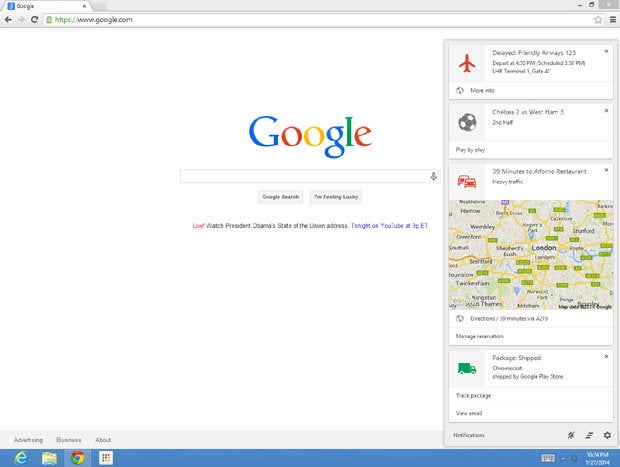 Google's been bringing Android and Chrome closer together for years now -- bringing the best attributes from each platform into the other, as Android and Chrome chief Hiroshi Lockheimer explained it to me. Google Now is undoubtedly one of Android's best attributes, and it'd be incredibly useful on the desktop. It just needs to be in a place where people will actually see it.
This is it. This is how Google Now should work on the desktop.
Having Now available in this way would be fantastic for existing Android users, who could easily access the same helpful info they're used to enjoying without having to pick up their phones. It'd be equally great for people who don't use Android and might get their first meaningful exposure to Now's value.From Google's perspective, of course, anyone spending more time using the internet and its services is a good thing, regardless of the platform.
No matter how you look at it, having Google Now in Chrome's New Tab page just makes sense. It puts pertinent info in a place we all see numerous times a day, consistently across device types and platforms. And it makes what's now basically a blank canvas into a supremely useful universal "home screen." It's exactly what a modern browser's starting point should be particularly on the desktop, where many of us spend more time in the browser than anywhere else.
How to download the new Chrome Beta App to enjoy Google Now ?
The Chrome Beta app offers some personalization options for the new tab page, but the updated Chrome Dev app expands upon them, most notably adding two options powered by Google Now. Here's how to enable it.
1. Open the Chrome Dev app and head to chrome://flags
2. Go to Show content snippets on the New Tab Page.
3. From the drop-down menu, choose Enabled via content suggestion server (backed by Google Now). (There is a second, nonpersonalized Google Now option, though I'm sure how useful Google Now suggestions are if not personalized.)
4. Tap the blue Relaunch Now button.